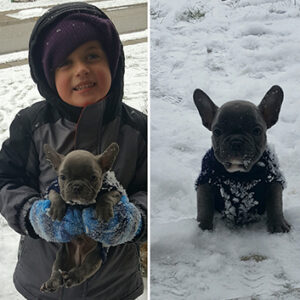 "We have been so blessed to meet Robert and his wife. Their kennel is amazing & very well kept. They have made the process of finding our puppy perfect. He has answered any and every question I have sent his way. They have been very helpful.
"We are now the proud puppy parents to our blue & white frenchie, Stitch!
"He is so sweet and has a great personality. He is playful and yet also such a cuddler. The best part is he is AMAZING with my 2 young boys who are 2.5 years and 5.5 years.
"Definitely a 5 star all around experience! Thank you Robert!!!"