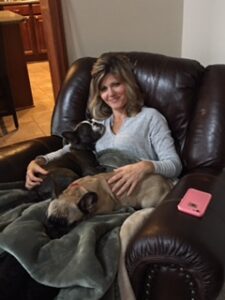 "This was our first experience purchasing from a breeder as our last doggie was from the humane society. After 17 years, he was tired and had had a long healthy life. We had to make the decision to put him to sleep.One of the hardest decisions I've ever made. Our house was too quiet and then ready for puppies.
"We love the French bulldog breed and I looked online for Ohio breeders. We were specifically looking for a blue French bulldog. I found the Hilltop Acres website and found who is now our Poseidon. We call him Si.  I emailed Hilltop and they were very quick to respond and answered every question I had as I was new to this arena. I was even able to call and talk to them on the phone. I asked for "every day" pictures of our blue Frenchie instead of the posted online picture. They sent me some pictures and one of them had Si's buddy in it. Then, we knew we were in trouble because we liked him too.
"My husband, myself, and our two teenagers made plans to drive to Hilltop Acres to meet the puppies.   We were smitten with the puppies. We were pleased to see them clean and also were able to see the parents. Hilltop was very helpful and answered all of our questions. After some time, our family discussed privately and unanimously decided that we must have them both! We took our two puppies home that night. Our blue Frenchies named Poseidon and our fawn Apollo.  Our experience with Hilltop was very smooth and easy. They were very helpful and gave us all the information and paperwork we needed for their AKC registration. I even emailed them after we were home with some questions and was given quick responses. I was glad that they were still concerned for the puppies even after they were sold.
"I would recommend this breeder for sure.  They are now 6 months and growing big so fast. They are very best friends and are always together. They play, eat, and sleep together and are always looking for each other. They love to have play dates with our neighbors boxer and coonhound dog. They are both cuddle bugs too. We love them so much!"